ALFA ROMEO 145
Generations Timeline, Specs and Pictures
ALFA ROMEO 145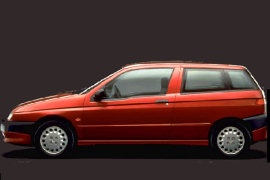 1994 2000
Alfa Romeo introduced the Alfa 145 model at the 1994 Turin Motor Show.
Designed to take over from the old 33 Series on the mid-size hatchback sector, the new 145 model came in a 3-door configuration and featured an innovative cut-off dashboard.
Exterior design was also considered quite edgy, while the platform on which the 145 was based on belonged to the same Fiat Tipo. This model received a new Cloverleaf variant in 1996 and replaced all its boxer engines with Twin Spark units a year later.
Early models came in with a longitudinally mounted engine, overhanging the front axle, but then the automaker decided to stick with a transverse setup. Both configurations were using 5-speed gearboxes. The model also relied on a unibody structure, with MacPherson strut and rear trailing arm suspension as well as rack-and-pinion power steering.
The Alfa 145 was slightly modified a year before its discontinuance, featuring color-coded bumpers, new-designed mirrors and standard side airbags.
Full Description and Technical Specifications