PEUGEOT 308 CC
Generations Timeline, Specs and Pictures
PEUGEOT 308 CC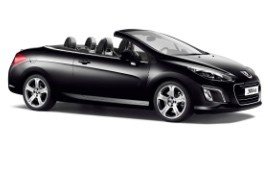 2011 2015
Peugeot improved the 308 CC for the last time in 2011 after just two years on the market, but it was a well-deserved one since it was improved in every way.
Sharing the same platform with its hatchback cousin was smart to cut the production costs for Peugeot when it introduced the 308 CC in 2009 and still have a compact cabriolet on the market. It featured the same engines and drivetrains, but it had to be reinforced to handle the open-top construction that affected the car's rigidity. In 2011, the French carmaker facelifted the entire 308 lineup, and that led to some improvement for the convertible version.
Thanks to its retractable hard-top system, the 308 CC was already a desirable car for all-weather situations. Its hat could disappear behind the rear seats in just 20 seconds and leave the occupants under the open sky. The new Xenon headlights made the night-driving easier, while the LED daytime running lights improved the car's appearance. A diffuser made the car look sporty in the rear, even though it was not a vehicle built for speed. Peugeot fitted the 308's taillights with LED technology as well.
Inside, Peugeot improved the materials and the fittings, answering some criticisms from its customers. The white dials and aluminum trim improved the image. For more comfort, Peugeot offered a system that blew warm air through the headrests to the back of the front occupants to keep them warm while driving in not so hot weather. There was, in theory, room for two adults in the back, but the legroom was limited.
Full Description and Technical Specifications
PEUGEOT 308 CC
2008 2011
The French car manufacturer that holds the record for most coupe-cabriolet cars sold to date, made a firm move in securing its dominance in this class by introducing the new 308 CC.
The medium segment coupe-cabriolet boasts very attractive looks and a very tasteful interior, specifically for the high-end trim levels. The car can accommodate 4 adult passengers and its hard-top can fold in just 20 seconds. Peugeot carefully designed the 308 CC's suspension, widened its tracks and lowered the ride height to achieve an almost unbeatable balance of motoring enjoyment and efficient road handling for its market segment.
Full Description and Technical Specifications