CITROEN C4 Coupe
Generations Timeline, Specs and Pictures
CITROEN C4 Coupe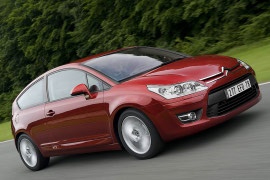 2008 2010
The 2008 facelift brought a restyled front spoiler and a new dashboard but kept the quirkiness of the rear design.
The three-door version of the Citroen C4 in 2004 launched a revival for the bold Citroen design from the past, with its unconventional rear design. The rear was different between the three and five-door versions that the two models are known as separate cars, not variations of the same car. Both cars are also known for their extensive infusion of technology usually reserved for more expensive models: fixed steering wheel hub, lane departure warning system, directional headlights and a perfume dispenser integrated into the ventilation system.
Full Description and Technical Specifications
CITROEN C4 Coupe
2004 2008
The C4 was not as explosive as its name suggested, but in the coupe shape, it was a magnet for the younger generation, and with the proper engine, it provided some decent performances.
Citroen was known for its creative design, and there are numerous proofs for that, starting with the Traction Avant (TA) and continuing with the marvelous DS, the CX, the XM, and, in 2004, with the C4 Coupe. The carmaker built it on the same PSA PF2 platform as the Peugeot 307/308 but enhanced it to match the car's sporty image.
While some considered that the C4 Coupe was inspired by the Honda CRX or the 1994 Mazda 323 Coupe, the shape was actually inspired by the 1973 Citroen SM Michelin Proto, a French beast with over 300 ponies under the hood and the same split windscreen in the back as the C4 Coupe. At the front, the car featured boomerang-style headlights swept back over the hood and front fenders. Depending on the engine version, the carmaker installed a roof spoiler at the back.
Inside, Citroen installed the same unusual fixed-hub steering wheel, where only the rim was turning on two spokes, while the center stood fixed, with the buttons and switches in the same place. The wide and long dashboard sported a center-mounted instrument cluster with a large LCD for the speedometer. In front of the driver, the carmaker added another display for the tachometer. Due to the unusual greenhouse shape, the car offered enough interior room for four adults.
The C4 Coupe received a choice of engines ranged between the entry-level, 1.4-liter 88 hp and the top-spec VTS with 2.0-liter and 175 hp.
Full Description and Technical Specifications