SAAB 9-3 SportCombi
Generations Timeline, Specs and Pictures
SAAB 9-3 SportCombi
2009 2012
The 2009 9-3 series expands the trim levels while dropping the limited-edition Turbo X sedan and wagon from the lineup.
The 2.0T and some of the Aero models are now available with Saab's all-wheel drive(XWD). The new Saab 9-3 is virtually unchanged from the 2008 model, to which where brought many design and performance enhancements. During 2009 the 9-3X was launched at the Geneva auto show. The 9-3X is a four wheel drive XUV version of the 9-3 SportCombi.The Saab 9-3 is available with four-door saloon body (Sport Sedan), family (Sport Hatch) and cabriolet (convertible).
Full Description and Technical Specifications
SAAB 9-3 SportCombi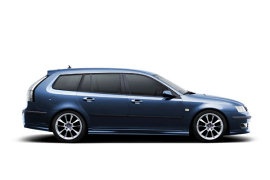 2004 2008
Saab introduced the 9-3 model in 2002 but waited another two years to expand the range with the station wagon shape, but it did it right.
While it was supposed to share more components with the European Opel/Vauxhall Vectra, Saab heavily changed the 9-3. It didn't share any body panel with its cousin, which led to higher production costs than GM predicted.
The 9-3 featured a grille that showed a sketched plane viewed from the front, which resembled the company's heritage. Its sharp-looking headlights with corner-mounted turn signals showed the brand's determination to succeed. The SportCombi featured a unique front bumper with a lip under the apron. Depending on the version, it offered round or rectangular fog lights. At the back, Saab installed vertical, clear taillights with a narrow triangular shape. Thus, the carmaker didn't have to adapt the vehicle for the U.S. market and kept a wide-opening tailgate.
Inside, the carmaker installed a dashboard with a driver-centered design and tilted center stack. Its broad central speedometer in the instrument panel was flanked by the tachometer on the left and the fuel and temperature gauges sharing the same round dial. Saab used a different infotainment system than the rest of the GM, with optic-fiber and 300 W speakers. The bucket seats at the front were the same as those offered on the sedan, but the rear bench, with its split-folding system, was tailored for the SportCombi. It offered a huge trunk with 72.3 cu-ft (2,047 liters) of space when the seatback was folded down.
Saab offered the SportCombi with a wide choice of turbocharged gasoline or diesel engines.
Full Description and Technical Specifications