PONTIAC G5
Generations Timeline, Specs and Pictures
PONTIAC G5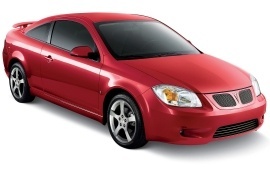 2007 2010
General Motors realized that selling the Chevy Cobalt only under the bow-tie brand might not be such a good idea after all and re-badged it as a Pontiac G5 Coupe in 2007.
Chevrolet launched the Cobalt as a successor for the Cavalier in 2004 with four and two doors. Pontiac wasn't that eager to get its hands on the compact segment coupe. After all, it was an upmarket brand when compared to the fleet-oriented brand Chevrolet. But Pontiac started selling the Cobalt as a re-badged Pursuit in 2005 in Canada. In 2007, it introduced the G5 in the U.S.
Its coupe shape was inspired by its European cousin Opel Astra Coupe, with a similar-shaped roofline. Its tear-shaped headlights sported the turn signals at their upper corners, while the wrapped-around bumper featured the split Pontiac grille with a vertical slat in the middle. On the lower side, the carmaker added a trapezoidal grille with horizontal slats. The taillights found their place at the back of the quarter panels, without any additional lamps on the trunk lid. It was cheaper that way.
Inside, the carmaker installed bucket seats at the front with some bolstering on the sides. The G5 featured a simple, almost bland, dashboard design and a steering wheel that looked like it was carried over from an Opel/Vauxhall and re-badged with the Pontiac logo. The carmaker placed white dials for the speedometer and tachometer and a fuel gauge at the instrument panel's top.
Under the hood, Pontiac installed a choice of two engines ranged between 2.2-liter and 2.4-liter. The latter featured a variable-valve timing that boosted its power up to 175 hp.
Full Description and Technical Specifications
PONTIAC G5 Sedan
2004 2010
The Pontiac G5 Sedan is a rebadged version of Chevrolet Cobalt which was only addressed to the Canadian and Mexican markets, in contrast to the 2-door coupe variant which was also produced for the United States.
Assembled in Lordstwon, Ohio together with the coupe version, the Sedan packed the same engine configurations, a 2.2- and a 2.4-liter, which produced 145 and 171 horsepower respectively. However, in the case of the Coupe the engines were a bit improved, releasing 150 and 175 hp. Pontiac G5 is based on the GM Delta platform, together with the 2004 Opel Astra, the 2004 Opel Zafira and the 2006 Chevrolet HHR.
Full Description and Technical Specifications