SUZUKI Equator
Generations Timeline, Specs and Pictures
SUZUKI Equator Extended Cab
2009 2012
The Suzuki Equator is a brand new pickup truck from the Japanese automaker, intended especially for American market where traditional demand for such vehicles is high.
The Equator was first presented at the 2008 Chicago Auto Show, and features two body styles, namely the Extended Cab and Crew Cab. It takes advantage of two petrol units, a 2.5L 4-cylinder in-line and a 4.0L V6, with the former having only rear-wheel drive and the latter rear- and all-wheel drive. The Suzuki Equator Extended Cab can accommodate 4 passengers, featuring small rear suicide doors that allow access to the back.
Full Description and Technical Specifications
SUZUKI Equator Crew Cab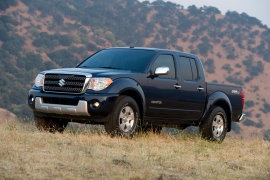 2009 2012
Suzuki introduced the Equator in the light pick-up market in 2009 as a badge-engineered Nissan Frontier.
Suzuki produced a wide variety of off-road bikes and ATVs, but not a single vehicle to carry them to the "playground" and back. While creating a new vehicle wouldn't make sense for them, they asked their neighbors from Nissan if they could make one for them. And this is how the Equator was born.
From the aesthetic point of view, the Equator featured a completely different front fascia than the Frontier. A wider and taller grille at the front and a different pair of headlights were the main difference apart from the S-badge. From the sides, the Frontier and the Equator looked the same, with the rear doors' raised beltline. The bed in the back was not long enough to carry a dirt-bike with the tailgate closed, but Suzuki installed a cage to keep the motorbike in place.
Inside, the Equator came equipped with SUV-like features such as automatic climate control, leather heated seats, and a navigation system. It could be fitted with a rear-view camera as well. The Suzuki steering wheel was the main difference between the two vehicles.
Under the hood, Nissan installed two engine choices for the Equator. The base version featured a four-pot, 2.5-liter engine, while a 4.0-liter V6 unit powered the top version.
Full Description and Technical Specifications