PORSCHE Cayenne S Hybrid
Generations Timeline, Specs and Pictures
PORSCHE Cayenne S Hybrid 958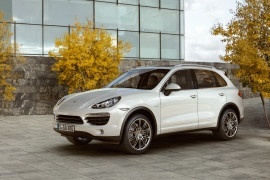 2010 2014
The world was not yet recovered from the financial crisis and Porsche unveiled the second generation of its SUV lineup at the Geneva Motor Show in 2010.
After the shock of seeing the first Cayenne beating up in sales all the other models from its range, the Porsche management decided to build a better car. And they succeeded to do so and, on top of that, a hybrid version was included to fight against the Lexus RX Hybrid.
From the design point of view, the second generation of the Cayenne was not that much loved. Its front bumper was mounted too high and then extended with black moldings downwards, the headlights didn't have a Porsche look, and, in the rear, the taillights were compared with those found on a Hyundai Santa Fe. Other than that, the car was big, offered a true SUV look, and imposed with its presence. Unfortunately, the Hybrid version was too subtle in showing its eco-friendly version. Some small badges of "Hybrid" were placed in the car. An option for green brake calipers was offered as an option.
Inside, the Cayenne Hybrid featured the same interior as the rest of the pack. That was a good thing in terms of practicality and comfort. The rear seats could slide back and forth to improve the legroom or the trunk space. Speaking of the trunk, that was big enough to carry almost everything with its 580 liters (20.5 cu-ft) standard volume that could have been extended up to 1690 liters (59.7 cu-ft).
The powerplant consisted of a 3.0-liter V6 supercharged gasoline unit and an electric motor. The internal combustion unit offered 333 hp while the electric motor did the rest of 47 hp. The whole system was mated to an 8-speed automatic gearbox.
Full Description and Technical Specifications