ALFA ROMEO 2600
Generations Timeline, Specs and Pictures
ALFA ROMEO 2600 Spider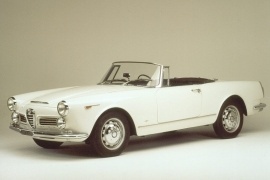 1962 1965
Alfa Romeo introduced the 2600 at the 1962 Geneva Motor Show and surprised the audience with an entire range dedicated to motoring enthusiasts.
When the carmaker introduced the lineup, the customers didn't know that it was the last Alfa Romeo with an inline-six under the hood. After the 2600, the carmaker had to switch to more economical inline-four units and cut costs. But, before that, it made the beautiful 2600 Spider designed by Carozzeria Touring. It was also the last project made for Alfa Romeo by the original coachbuilder, which closed its doors after 1966.
The 2600 sported an intriguing front fascia with two main headlights mounted on the upper side of the front fenders and an additional set of lights on the grille, just above the chromed bumper. The Alfa shield, with its chromed trim, adorned the center of the front fascia. Still concerned about performance vehicles, the carmaker added an air-intake on the hood to supply the three Solex 44 PHH carburetors with cold air. From its sides, the straight beltline raised behind the doors in an elegant arch toward the back of the car, while the rear featured slim, vertical taillights.
Inside, the carmaker divided the interior into two distinct areas: driver and passenger's side. While the former focused on the steering wheel and the four chromed dials on the instrument panel, the passenger had the radio in control. Carozzeria Touring managed to create a roof-top that could fold completely behind the seats, leaving a clean roadster line, with only the windshield raised above the beltline.
Under the hood, Alfa Romeo installed a 2.6-liter engine that provided 145 hp. Several units were fitted with Webber carburetors and provided 165 hp, but that system didn't work very well on a daily basis.
Full Description and Technical Specifications