FERRARI 458 Speciale
Generations Timeline, Specs and Pictures
FERRARI 458 Speciale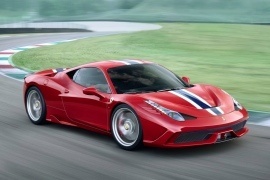 2013 2015
That was the last goodbye from the last naturally aspirated V8 Ferrari on the market.
It was the F458 Speciale. A car built for track, but with some road capabilities as well.
The F458 engine won the "International Engine of the Year" award for its specific power and torque. But the Speciale was pushed harder. And not only the engine was re-worked. The entire body went through a diet losing 275 kg (606 lbs) when compared to the standard F458. The wheels offered a weight reduction of 12 kg (26 lbs) by themselves. The car's floor was made out of carbon-fiber as well.
The look was different than the regular F458. The two stripes along the car were a clear mark for the track-focused supercar. Its carbon-fiber elements were left unpainted. The specific design of the light-alloy wheels and the mesh-grille in the front offered a clear view of the car.
The car's interior was stripped down to bare essentials and some parts were covered in Alcantara, while other parts featured exposed carbon-fiber. The standard specification vehicle didn't feature a glove-compartment or a radio. The later was available on the options list.
The most important modifications were made on the mechanical side. The engine was pushed to offer a staggering 134.6 hp/liter. That was massive for a naturally aspirated engine. The dual-clutch F1-inspired gearbox was tuned for faster downshifts and the E-Diff (electronic controlled rear differential) offered a faster reaction.
Full Description and Technical Specifications