LANCIA Gamma Coupe
Generations Timeline, Specs and Pictures
LANCIA Gamma Coupe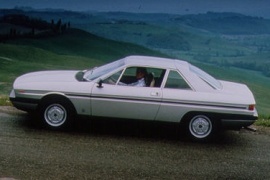 1976 1980
When a sports-cars manufacturer joins its forces with one of the best designers in automotive history, the result had to be good.
But it wasn't.
In the mid-'70s, Lancia introduced the Gamma lineup, a premium range of vehicles for those who had the money to buy them. Their heritage and trophies allowed them to be there. While other European car-makers lacked the experience in that area, Lancia had them all. On top of that, they had a very good connection with Pininfarina Studio.
Lancia knew that there was room for a premium coupe on the market. Apart from Mercedes-Benz and BMW, there was not any true option. The Gamma Coupe featured a pair of rectangular headlights and a mesh-grille in between them. The flat surfaces and raked A-pillars enhanced the car's look. It was not about the aerodynamic; it was about beauty. In the back, Pininfarina Studio shaped the trunk lid with a lowered middle part. The manufacturer didn't really care if it decreased the luggage space. It was room enough for two passengers on a week trip.
The interior featured a rectangular instrument cluster with round dials inside, while the rest of the dashboard was angled down, so it took as little room as possible. The two front seats were wide and covered in velour as standard, with an option for leather.
Under the sleek, unibody coupe, there was a boxer-4 engine. The base version was a 2.0-liter unit, while the top model featured a 2.5-liter with a fuel injection system. Both versions were mated to a 5-speed manual.
Full Description and Technical Specifications