MAZDA 323 Station Wagon
Generations Timeline, Specs and Pictures
MAZDA 323 Station Wagon 323 Station Wagon BF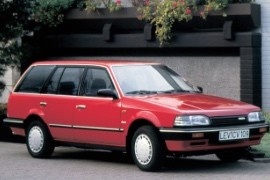 1986 1994
Mazda was raising its car lineup, and it was already known for the RX7 and the comfy 626.
But the carmaker needed a vehicle for the masses, and that's was the 323 lineup, in the compact segment.
In November 1985, Mazda revealed the sixth generation of its compact station wagon. It was based on the same platform as the rest of the range, which was introduced in January. The boxy-looking vehicle was not quite in the European trend, but they were close enough to fit in the compact segment. Its main advantages were the good standard features and its comfortable seats.
On the outside, the 323 featured only a few rounded edges: over the hood's front side and on the sides of the roof. Everything else was designed with flat surfaces. Its headlights were squared and horizontal, with a black grille between them. A black, wrap-around plastic bumper with a chromed line on it enhanced the car's look. The four doors were similar to those installed on the sedan. The 323 Wagon featured an additional pair of windows for the trunk area behind them. Its slightly sloped tailgate and thin D-pillars didn't look like it was a van conversion.
Inside, Mazda installed bucket seats with bolstering on the sides, but not for fast cornering. Those were designed to provide an adequate side, comfortable support for the front occupants. The rear folding bench could enlarge the trunk area in the rear, so everyone who had one was called to help move other friends. Depending on the engine and trim level, the 323 featured air conditioning and power windows.
Under the hood, Mazda offered a choice of three engines, both gasoline, and diesel. An AWD version was available as an option.
Full Description and Technical Specifications