MITSUBISHI Carisma Sedan
Generations Timeline, Specs and Pictures
MITSUBISHI Carisma Sedan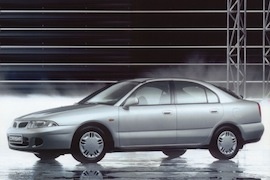 1995 2004
Often described as a large family sedan for the 1995 European standards, the Carisma was more of a compact-sized vehicle built on the same platform as the Volvo S40.
Mitsubishi needed a car to compete in the European mid-size sedan segment against Ford Mondeo, Renault Laguna, or Volkswagen Passat. But it couldn't do that on its own, and, together with Volvo, it built a common platform and shared engines and technologies. Volvo already had some agreements with Renault, and that helped the two carmakers offer diesel versions for the Mitsubishi Carisma/Volvo S40. Apart from the technical platform, the two vehicles didn't share aesthetic or stylistic features.
Mitsubishi missed the opportunity to offer a car with a bold stance. Despite its curved headlights and split grille look, it wasn't what the European customers were looking for. A British company, TWR (Tom Walkinshaw Racing), imagined a slightly modified version of the Carisma and showcased it at the 1995 London Motor Show. Unfortunately, that remained as concept-car only.
Inside, Mitsubishi didn't consider that the car should feature an elaborated design and high-quality materials. It tried to make the car cheaper than the competition, but that was too obvious. Unlike the Mondeo, which was available with leather-wrapped interior and soft materials, the Carisma showed fabric upholstery and hard plastic.
Under the hood, the Japanese carmaker made another mistake. It tried to offer the car at a competitive price, but that made them install a 1.3-liter engine in a vehicle considered "large" for those times. The 1.9-liter turbodiesel carried-over from Renault was considered a better alternative, but it wasn't enough to boost the car's sales. In 2004, Mitsubishi decided to pull the plug from the Carisma lineup.
Full Description and Technical Specifications