ALFA ROMEO Brera
Generations Timeline, Specs and Pictures
ALFA ROMEO Brera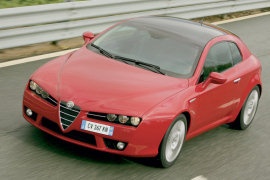 2005 2010
The Brera appeared first in 2002 as a Giugiaro concept-car for Alfa Romeo in Geneva Motor Show.
Three years later, the production-ready version was shown in Geneva. There were some technical differences, but the design was almost the same.
There has been always a battle between car-designers and engineers. Usually, in Italy, that battle was won by the designers while in Germany the engineers took the lead. The Brera concept featured a Maserati V8 engine with all-wheel-drive, while the series production model had a much modest V6 as the top-spec engine. At least, it kept the all-wheel-drive system for one version.
The design was made by Giugiaro, finished and produced by Pininfarina. The car shared more than 50% of its parts with the Alfa Romeo 159 sedan, including the headlights, engines, and some parts of the dashboard. From the B-pillar behind, everything was changed. But the three-bulbs headlights were kept and they were unique on the market. The short roof and abrupt end made the car look like a shooting brake, but shorter.
Inside, the Brera featured the same dashboard as the 159. The start button and the three gauges on in the middle of the real aluminum plate from the center console were the same. With its bolstered seats, the Brera was closer to a long-distance cruiser than a sports car. In the rear, there was room for child seats.
There were four engine options, and only the top version was available with an all-wheel-drive system. But the heavy car led to poor fuel-efficiency and not so Alfa Romeo performances.
Full Description and Technical Specifications