PAGANI Huayra Roadster
Generations Timeline, Specs and Pictures
PAGANI Huayra Roadster BC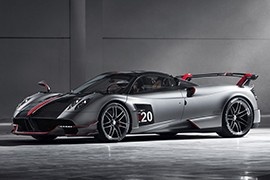 2019 2022
Two years after one of the most extreme Huayras, the BC, was unveiled, Pagani decided to finally show the Roadster version of the beastly supercar to the world.
As with every other Pagani, the limited edition Huayra Roadster BC epitomizes how the finest craftsmanship doesn't necessarily exclude efficiency and performance, even if we're talking about an open-top.
Thanks to the use of composite materials throughout the chassis, the Pagani Huayra Roadster BC only weighs a staggering 1,250 kg (2,756 pounds), making it the lightest open-top hypercar out there by far. Despite offering a ground clearance that is fitted for both public roads and racing circuits, the car's body can generate no less than 500 kg at 280 kph (1,102 pounds at 174 mph), which is right up there with many dedicated racing cars. Thanks to the continuous collaboration with Mercedes-AMG, the Huayra Roadster BC benefits from a twin-turbocharged V12 that delivers no less than 800 horsepower and a staggering 1,050 Nm at just 2,000 rpm. The power is sent to the rear wheels through a transverse seven-speed sequential gearbox from Xtrac, made specially for Pagani.
Full Description and Technical Specifications
PAGANI Huayra Roadster
2017 2019
Years after the introduction of the Huayra, Pagani finally decided to cut off its roof and put out the Roadster version in 2017.
Thee Huayra was unveiled at the Geneva Motor Show in 2017. The purpose was to achieve a lighter car than the coupe and Pagani managed to do that by using new materials, such as carbon-titanium used for the chassis. The Huayra Roadster's weight was only 1280 kg.
The car did not borrow components from its predecessor, everything was changed for a more aggressive look. The car came with new alloy wheels, new tires specially made by Pirelli with the producer's name, a new exhaust design and for the interior, new stitching designs were used. Buyers could choose between different themes and colors for the interior.
Some distinctive shapes can be seen in the front and rear where additional vents can be seen, especially on the humps above the engine. The Pagani Huayra Roadster is powered by the Mercedes-AMG M158 engine. The twelve-cylinder engine, built specifically for Pagani by Mercedes-AMG, has benefited from the research and development done for the Huayra BC, delivering a power of 764 HP at 6200 RPM, with a torque of over 1000 NM already available at 2400 RPM. Only 100 of Huayra Roadsters were manufactured and each of them was sold.
Full Description and Technical Specifications